Playboy Playmate Vanessa Hoelsher
Bio
Vanessa Hoelsher (born January 19, 1982 in Atlanta, Georgia) was Playboy's chosen Playmate of the Month for September 2005.
AMBITIONS
I want to model & promote for Playboy, further my career in wines & spirits and live a substantial life driven by purpose.
TURN-ONS
Athletic men, confidence (not cockiness!), humility, Southern gentlemen & guys who can fix things around the house.
TURNOFFS
Selfishness, negativity, cell phones, unpatriotic Americans and people who complain about their lives but do nothing to change them.
MY CHARITY WORK FOR ANIMALS
Is very important to me.
OLD SOUL OR YOUNG AT HEART
I have a very old soul.
FAVORITE OUTDOOR ACTIVITIES
Going to football games (Go, Falcons!), going to the lake, hanging out poolside with the girls.
THE MOST ROMANTIC CITIES
If you are with the right person, anywhere can be romantic. But Portofino, Italy and Tahiti seem pretty romantic to me.
Vintage Vanessa
Miss September's future is ripe with possibilities
When the lights go out in Georgia, Vanessa Hoelsher is there to make sure you don't grow thirsty. The 23-year-old special-events coordinator is often out on the town in her home of Atlanta, promoting her company's wines and spirits. "If there's anything going on in Georgia with our liquor brands–whether it's Usher's birthday party or whatever–I'm kind of the go-to person," she says. It's not hard to understand why she gravitated to this line of work. Vanessa is direct and approachable as well as beautiful, an intoxicating Southern belle who–here's a shockeroo–lacks a Southern accent. "My family comes from Ohio, which is probably why I didn't pick up the accent," she explains. The Buckeye descendant remains tight with her family. "I have three brothers, and one of them is my twin. You'd think I would have been a tomboy, but I've always been feminine and girlie. I did get a thicker skin from having all those boys in the house. I'm not easily offended. I'm the first one to laugh at myself."
Miss September didn't have much modeling experience before sending her pictures to Playboy, but she did pose for a shock jock's billboard in Atlanta. "The ad was a satire that read MORNING DOMINATION," she says with more than a flash of naughtiness in her eye. "I wore a black leather dress and had a whip. I wasn't dealing with professional photographers, so I had to walk wrapped in a station banner past all these sales reps to do the shoot in a conference room." That didn't make her feel self conscious, nor does posing. Indeed, Vanessa is accustomed to being looked at. "I cannot go into a Wal-Mart without getting hit on," she says. "I'll look so bad–yoga pants, no makeup, straight from the gym–and guys will follow me around and try to talk to me." Vanessa doesn't think this is an altogether bad thing. "I'm definitely not a first-move kind of girl. I like it when a guy has the nerve to ask a girl out on a date instead of dropping a cheesy line. Still, the Wal-Mart thing weirds me out." So what is her type? "I like rugged guys. I don't like dating men prettier than I am or men who take longer to get ready than I do. I dated this football player who was metro and loved shoes and shopping–there's something going on there. My friends tease me and say, 'You just like these macho, meathead guys.' Every time some big guy walks by, they say, 'There's your new boyfriend, Vanessa.' I can't help it."
Since her job requires her to be an enthusiastic socializer, Vanessa cherishes low-key nights at home with her roommate, two cats and the latest biography. And while she's game for exciting opportunities that may come her way, she won't soon be leaving on that midnight train from Georgia.
"I like Atlanta and would not drop everything to move to L.A.," she says with a smile. "I'm not going to roll the dice and just move somewhere to see what happens."
Vanessa Hoelsher Pics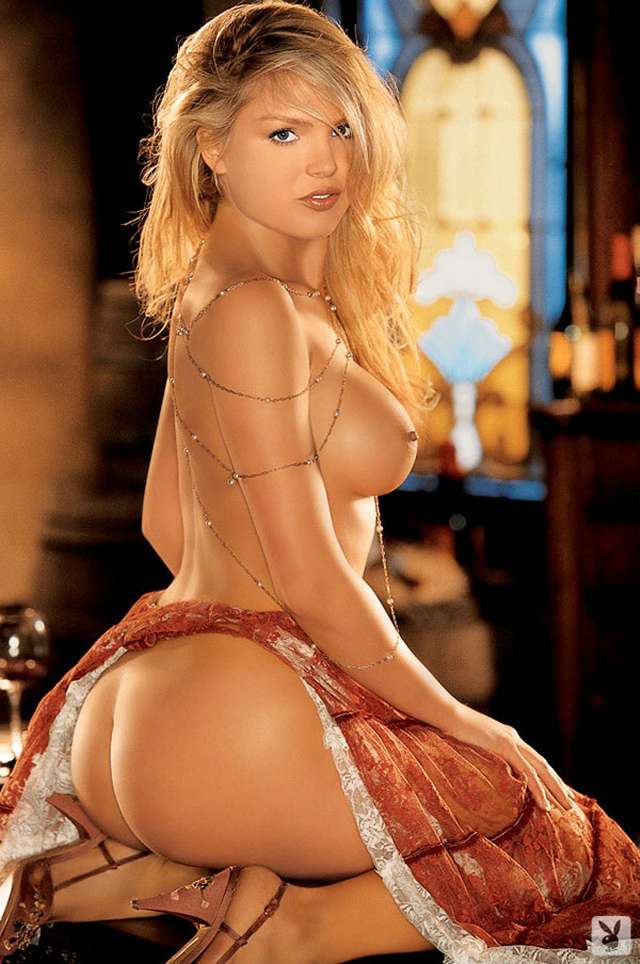 Vanessa Hoelsher Video
Vanessa Hoelsher Playboy Playmate Information
Vanessa Hoelsher is well known Playmate and can be seen in lots of scenes. Vanessa Hoelsher is very popular Playboy girl. She is featured mainly in mainstream movies. Vanessa Hoelsher works mainly for U.S. based companies and you can download her films online. Vanessa Hoelsher has many fans worldwide. She is often seen in sexy vids.
Vanessa Hoelsher Video
Vanessa Hoelsher Videos
For new Vanessa Hoelsher sexy videos visit Vanessa Hoelsher website. In website's movies section you can check all available scenes. Vanessa Hoelsher often post new vids on Playboy websites; ie. HotMovies and PlayboyTV. Additional information regarding videos with Vanessa Hoelsher can be found through Vanessa Hoelsher forums.
Frequently Asked Questions Regarding Vanessa Hoelsher Movies
How can I watch and download Vanessa Hoelsher sexy videos?
If you want to download or stream HD videos, you can join many high definition video websites. Free streaming Vanessa Hoelsher hot scenes with play time around 2 to 10 minutes are provided by tube websites ie. Tube8, Tube, etc.
What is Vanessa Hoelsher New Site?
CyberClub
Where can I get the latest Vanessa Hoelsher free pictures?
Vanessa Hoelsher free pictures are provided online through online membership areas provided by studios when you join their website, or you can get pics through various websites ie. Freeones, Gals4Free, PlaymateHunter, BustNow and many more.
What is the last Vanessa Hoelsher movie?
You can check the last Vanessa Hoelsher movie in several online databases, or on Playboy websites.
Where is Vanessa Hoelsher bio, information, awards and nominations?
These information is provided on Vanessa Hoelsher website, or you can find it on Vanessa Hoelsher Wiki pages.
What is number of Vanessa Hoelsher Playboy films?
3
Playmates You Might Like
Vanessa Hoelsher User Links